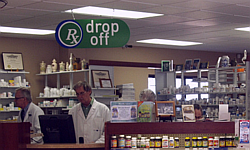 The Leeds North Side Pharmacy is a fully staffed professional pharmacy that specializes in providing individual care and concern for each prescription customer.
This dedication is enhanced by our well over 200 years of combined experience. This experience is your assurance of the very finest in pharmacy services.
Leeds Northside Pharmacy has a large staff of professional pharmacists because prescriptions and prompt prescription services are always a priority.
At Leeds Pharmacy you are more than a prescription number, you are a customer 'friend' that will benefit from our experience, professional expertise, and dedication to excellence.

Our pharmacists are always ready to answer your questions or visit with you about any concerns that you may have regarding your prescribed medications.
Your physician, your pharmacist and YOU are all on the same team, a team that has only one goal...
intimate dedication to your health, happiness and well being.
Visit our companion pharmacy Greenville Pharmacy

Medline Plus is a Search Engine dedicated to providing health and medical information.

Home Health Care
Our Home Health Care Department is very complete with a variety of items. Upon your first visit you will discover that we have a full inventory of wheelchairs, walkers, specialized canes, lift chairs, commodes, shower & bath aids, shopping carts, shoes, compression hosiery, including a complete assortment of diabetic aids and supplies.
There is always useful advice from any one of our friendly, and knowledgeable, home health care specialists.
We have candies, and beautiful gift items such as, exquisite glassware, novelties, appliances and tasteful appointments for seasonal decorating and entertaining. There is a large card shop featuring the Carlton line of greeting cards.
You will find Cards for all occasions.
Our pharmacy and variety store is open every day including Sunday. We provide FREE prescription delivery 5 X' Daily!... Monday thru Friday.